V.Care understands chemical industry
---
Credit scores & limits
Data analysis is at the very core of what we do at V.Care. Our chemical industry leading scoring system includes key statistical metrics and the most advanced statistical techniques to help determine the financial stability of a company.

With this scoring model, we can achieve a prediction rate of 70% of company insolvencies 12 months in advance, saving you the financial worry that bad debt can bring. In fact, our company credit scores and limits are so predictive that all leading credit insurers endorse them.
Q&A
What's included in a report?

Our business reports include most of the information you would expect but information may vary country by country. You may check our sample report.
Where do you get your data from?

Our data is collected from over 200 sources; where possible we will collect information from official registries. Our trusted local partners allow us to collect information locally; ensuring we always deliver high quality and up-to-date information.
Financial data
If you are looking at a potential merger, takeover or tendering process, or simply want to see a more in-depth view of the company you are about to do business with; we endeavour to fill our reports with the insight you need. It is for this reason that we include up to 5 years of full annual financials as standard.

In V.Care's company credit reports you will always find (where available) the following:
Profit & Loss
Balance Sheets
Capital & Reserves
Key Ratios
Cashflow
We also include access to scanned official Companies House documentation such as mortgages, new corporations, director changes, changes of registered addresses, plus much more.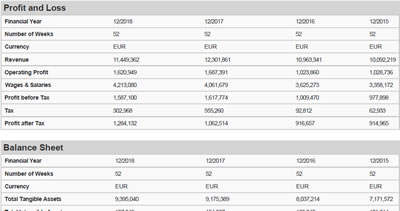 Why is the credit scoring banded A to E?

Because not all countries use a 1-100 score; using an A-E score makes it easier for you to compare the credit risk of companies from across different countries. A is the lowest risk, D the highest risk and E is unrated.

How long will it take to receive my report?

99.9% of all reports requested by our customers are typically delivered instantly online. Where a company is not available, a fresh investigation will take between 2-10 working days depending on the country.

How often are the reports updated?

V.Care database reports are updated in real-time, over 1 million times a day.
Business reports for your international interests
Our owned database of company credit reports gives you exceptional coverage on business credit information about your existing or future chemical customers and suppliers.

V.Care's instant international credit reports cover companies in over 100 countries, meaning 99.9% of requested business credit reports are available straight away. For any other international report requests, we will provide a freshly investigated report for guaranteed, up to date and reliable information.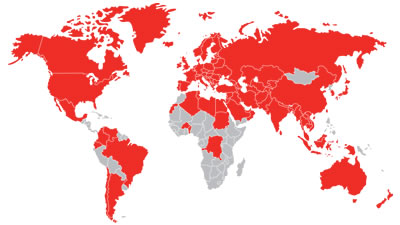 How does a fresh investigation work?

When a company report is not available to view online you have the opportunity to freshly investigate a business. Once this request is received, we will attempt to contact the company directly using our local partners and official registries to provide a detailed report within as little as 2–10 working days.

How much does a credit report cost?

We charge USD 299 for a ready-to-deliver report. The cost of fresh investigation differs case by case and will quote you specially.
Inquiry a company's credit report